Rooster Feather Extensions
Feather hair extensions seem to be the new trend in hair. I have seen it on the East Coast as well as in the Mid-West and have read about it being over on the West Coast as well, and it is not limited to any one age group, I have seen them on college, high school, middle school, and elementary students, and even on parents and grandparents (you think I am lying, but I saw a grandmother with some in at In-N-Out.) So I think it is safe to say that this pretty popular now;) And, I can see why. The feathers are very cute and are placed in the hair just like a hair extension would be. They can be washed just like you would your hair and they can be blow-dried, curled, straightened...whatever you can do with your hair you can do with these feather hair extensions. And, this is a much less damaging way of adding some color or highlights to your hair without dying it or bleaching it. Most of the feather extensions are rooster feathers and some are quail. The feathers come in an array of colors as well, you can get feathers in natural tones such as copper, brown, or black.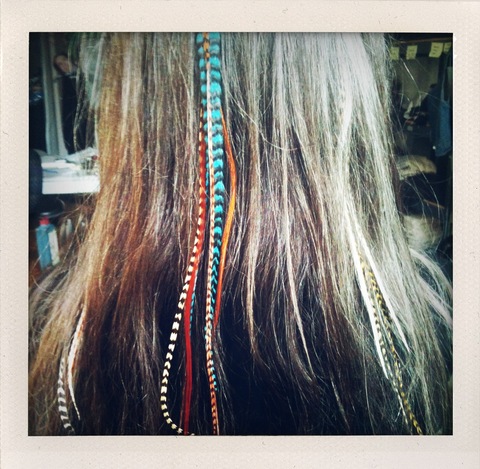 Colored Feather Extensions
Or you can go a little more wild and get feathers in purple, blue, red, or even pink! And the feathers come in skinny or fat, long or short, sizes. So there is much to choose from and most hair salons offer these now (some even at cheap prices!) So it is worth a shot to check out if you would like something different done to your hair but don't want to dye or cut it (but if you want to dye or cut your hair these are still pretty cute;) )

And, if you don't want to go get them done, or don't think that extensions are a full time thing for you, then there are clip ons as well. So this trend is easily accessible to all, and can even be made at home if you don't want to spend a lot of money. Just get some feathers and some hair clips and attach the feathers to the clips (with either glue or thin string) and VOILA!
Multiple types of feather extensions